PassHub for Business
Password management done right:
Security, Convenience, Collaboration
In today's world domineered by usernames and passwords, businesses need to share credentials and files with internal employees and external customers quickly and easily. But sharing can't come at the expense of security.
That's why we created PassHub for Business.
Combining client-side encryption with intuitive data sharing, PassHub for Business is a dedicated platform for secure collaboration.
Find the right version of PassHub
PassHub enables your business to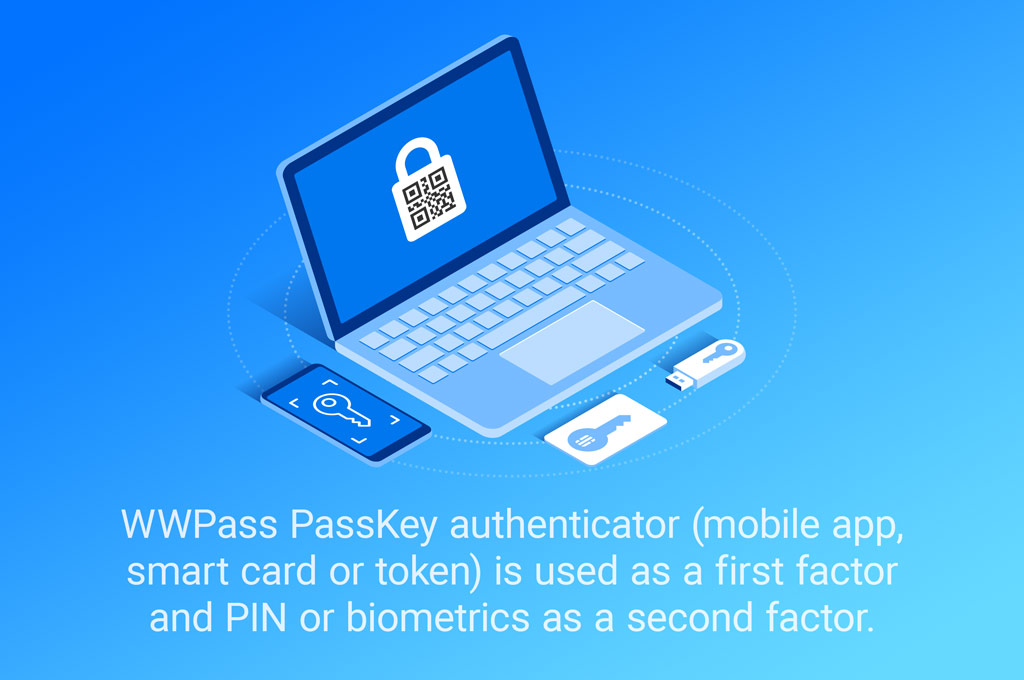 Leverage multi-factor authentication and zero-trust architecture to secure your most sensitive data
Enforce security with password-less multi-factor authentication as the only access method

Eliminate potential for insider threats with client-side encryption so even administrators cannot access user data

Protect critical IT assets, e.g. credentials and SSL certificates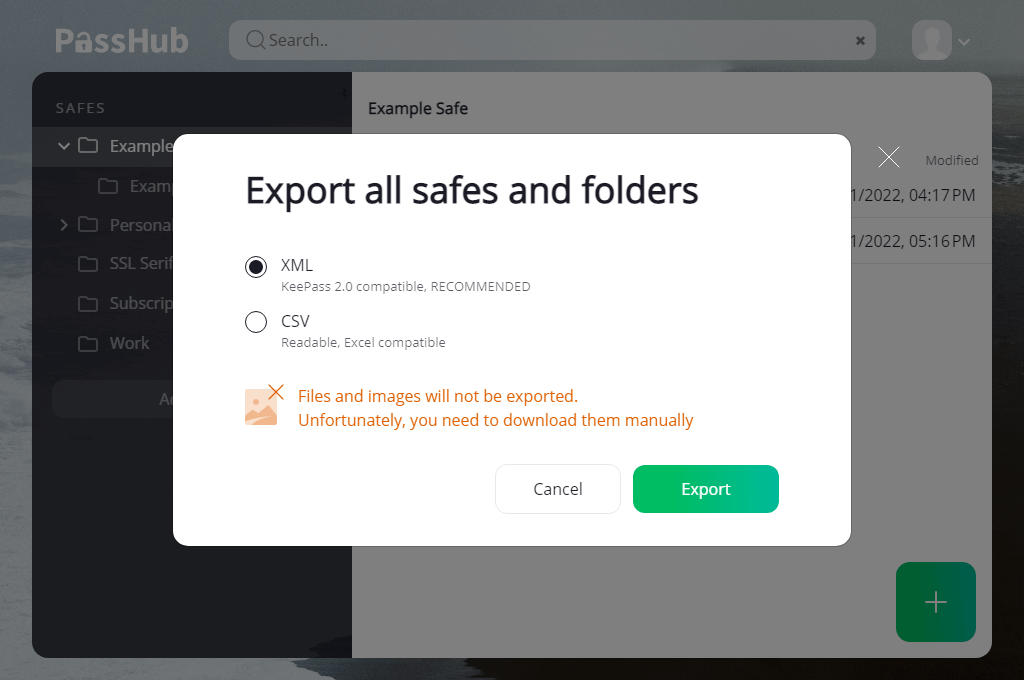 Securely store business credentials, notes and files
Organize your data with PassHub Safes--top-level folders and subfolders

Search and find records with our robust search tool

Generate strong passwords according to your business requirements

Backup/restore your data
Collaborate with team and clients
Share individual safes with team members, partners, and clients

Use granular access to keep all information on a need-to-know basis
Manage user access
Across the entire PassHub service:

Invite users to PassHub

Track user activities

Delete user accounts

Within each PassHub safe:

Assign roles to safe users (read only, editor, admin)

Revoke user access to the safe, while maintaining access for your organization
Migrate from KeePass
Import your KeePass data to finally start sharing business credentials and files (e.g. SSL certificates) with your team

Export your PassHub data for backup in your cloud
Flexible Deployment Options to fit Any Environment
PassHub for Business is available as a self-hosted or cloud versions
Self-hosted
Open-source software. In cloud or on-premise installation on your company's servers with 5 hours of free support for setting up your SMTP server, SSL certificates, distributed MongoDB database, updates & support. Client-side encryption ensures granular permissions and secure access on any device. You only pay for WWPass authentications.
Installation instructions
Cloud
Includes 500 MB of secure data storage per user. Full control over user management. No need for server configuration or support. All data saved, managed, and secured on US or EU servers. Client-side encryption ensures granular permissions and secure access on any device. No hidden costs.
Learn more
Enterprise
For organizations with special requirements. 1000+ users. Customized reporting, integration with corporate SSO/LDAP/AD systems.
Contact Us
Why choose PassHub for Business
Client-side encryption (AES-256-GCM and RSA-2048)
Strong multifactor authentication with no master password
Unlimited number of records
Easy sharing between team members
Compatible with any device without requiring software installation
Automatic synchronization between team members and all user devices
Installed on corporate servers, keeping server code under full enterprise control
Compatible with KeePass
Frequently Asked Questions (FAQ)
Does PassHub support multifactor authentication?
Yes, PassHub has both multifactor authentication and client-side encryption. PassHub uses 'something you have' (WWPass Key) as a first factor and 'something you know' (PIN) or something you are (biometrics) as a second factor.
What does authentication QR code consist of? How secure is it?
The only thing the QR code contains is a random authentication session ticket, which does not disclose any user information to attackers. This is an important difference between WWPass QR codes and QR codes used by other companies/authenticators, which often encode unnecessary and unsafe personal identifying information.

It is important to remember 3 things about QR Codes:

(1) They are just a transport tool, and how the tool is used is the most important factor regarding your security.

(2) If a company encodes things like personal identifying information or usernames in a QR code, this is both unnecessary and unsafe –WWPass does not do this; only a random authentication session ticket is used.

(3) Even if someone stole your phone with WWPass Key app, they can't automatically get in everywhere just by scanning the QR code –an additional verification factor like a PIN, fingerprint or facial recognition would also be needed. Additionally you can restore your WWPass Key onto a new mobile device, which will instantly block the stolen WWPass Key.
Where is data stored?
This depends on your deployment. For self-hosted, data is stored on your servers. You can use physical servers in your datacenter, or virtual servers from cloud providers. If deployed as a SaaS, your data is stored on PassHub.net's secured servers.
How many servers do I need to run PassHub?
For a simple, non-redundant configuration, you can use a single server. If you need high availability, you will need at least three servers.
What Database Management System (DBMS) does PassHub use?
Can I use different DBMS?
Not with the PassHub for Business SaaS version. We selected MongoDB for its combination of efficiency and reliability. Self-hosted PassHub may be ported on other high end databases (but not on MySQL/MariaDB or other databases that do not support redundancy)
Do you use a "Master Password" to encrypt the data?
No way! Anything a human can read, type, or write on a post-it note can be easily compromised. PassHub uses WWPass technology (WWPass Key) to encrypt the encryption keys. No one ever has access to other users' information, not even administrators.
Can I use PassHub without WWPass multi-factor authentication?
No. WWPass technology is necessary to ensure the security of the entire system. WWPass key is used both for password-less login and client-side data encryption.
Can PassHub be accessed without internet?
No. PassHub uses WWPass, which is cloud-based.
Can I backup password data?
Of course. The entire database should be backed up regularly. These backups can be used to restore the system in case of disaster. Backups contain only encrypted data, so even if they fall into the wrong hands, no data would be compromised. Each user can backup their data in unencrypted format (100 percent compatible with KeePass). In this case, they are responsible for safeguarding their own data, since it is outside the PassHub platform.
Can I load credentials from other password managers?
Data can be imported from KeePass directly. It also can be imported as a properly formatted comma delimited text file.
How much does PassHub for Business cost?
PassHub for Business is an open source project, so you can download and install it yourself. However, to make PassHub work, you need subscription to the WWPass authentication service. This service is free for a small number of users, and for larger organizations it is priced below the cost of a typical password manager license. For more details and to subscribe, visit our pricing page.
Can employees of PassHub, WWPass, or my systems administrators ever gain access to passwords and other secret data?
Never. PassHub uses client-side encryption, so secret data gets decrypted only on each individual user's devices (PC, tablet or phone) using that user's private key. That private key also gets decrypted on the same device, and can not appear anywhere else. That's the magic of WWPass technology!
Is PassHub just a password storage, or can it be used for other purposes?
PassHub is a collaboration tool, allowing users to store and share various data, including files. When one user stores data in their safe, it immediately becomes available to all other users who have access to that particular safe anywhere in the world.
PassHub for Business: Get Started
Step 1
Download the WWPass Key app
The WWpass Key app is a mobile authenticator, which allows users to log in to unlimited WWPass-enabled websites and WWPass-enabled applications. WWPass Key app does not require users to install software on their computers.
Step 2
Log in to the WWPass Developer Portal
Your WWPass account is created automatically the first time you scan the QR code and log in. Use your account to manage your PassHub subscription.
Step 3
Get PassHub for Business
Create a PassHub instance. The URL for your PassHub will be in your WWPass account in two business days. We will send you an email notification as well. Satisfied customers are our top priority. You can cancel your PassHub account at any time. We provide a 30-day money back guarantee.
Proceed with your WWPass Account